艾力高离子接地极ECRV102Q4UB Chmical Rods
ECRV102Q4UB Chemical Ground Electrode/Chmical Rods
The chemical ground electrode is useful for providing an effective earth in poor soil conditions where space for electrodes is limited. Applications include telecommunications, power generation and distribution, commercial and industrial, manufacturing, transportation (rail and aviation), lightning protection, recreational facilities, and defense. The ERICO chemical ground rod electrode systems are most effective when installed as part of a total system that includes high conductivity backfill materials, access/inspection wells, and permanent, reliable ERICO® CADWELD® connections. They may be installed either vertically or horizontally.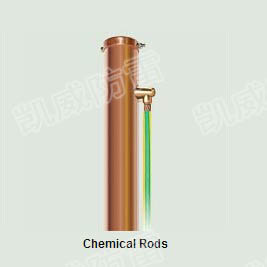 Features
Contains natural electrolytic salts, which permeate into the surrounding soil to condition the soil and increase its conductivity
Easy connection to ground electrode conductor using the factory provided pigtail (up or down orientation)
Provides decades of reliable services due to rugged construction and high-quality metals with a 30-year minimum service life
2-1/8" (54 mm) outside diameter copper pipe with 0.083" (2.1 mm) wall
Available in continuous sections up to 10' (3.05 m) in length; longer rods can be field assembled using 5' (1.52 m) or 10' (3.05 m) extensions
Optional factory-attached radial strips are available to reduce impedance to high-frequency lightning energy and to control the direction of the dissipation
L-shaped rods are available for horizontal installation applications where it is impractical to auger deep vertical holes
Access segment on horizontal (L-shaped) chemical ground electrodes is 32" (813 mm) deep
Chemical ground rods can be ordered as individual components or as a complete kit. Kits include the chemical electrode (pre-filled with electrolytic salts), one 25 lb (11.36 kg) bag of GEM, one 50 lb (22.68 kg) bag of Bentonite, and a high-density polyethylene inspection well.